Looking back at KCE 2019
January marks a special time of the year for all of us at A-KEEP. It is not only the beginning of a new year, but signals the coming of A-KEEP's annual Korean Cultural Experience. Each year, A-KEEP organizes this community event which is an authentic, fun, and interactive way of teaching cultural education through the arts!
This year's featured art was a theatrical performance of "A Korean Cinderella Story," performed by the Music Group Kong Na Mul. Kong Na Mul not only performed this genre bending performance, but actually penned the entire story themselves starting back in March of 2018. A-KEEP was honored to be a part of bringing a brand new story that would be surprising and beneficial to diverse audiences to Alabama.
January 28th marked the final performance and as such, we are taking a look back at all of the special moments and events we completed during the 2019 Korean Cultural Experience. We had an amazing team of artists who did a fantastic job of bringing smiles to diverse audiences, regardless of language and culture. We met with amazing organizations who helped spread the fun and learning farther than we could ourselves. We discovered new ways to interact with our community and supporters on social media, and ended this KCE on a great note.
Take a look at some of the things we accomplished below!
From Opelika to Montgomery
3 Unforgettable Performances
The featured performance for this year's Korean Cultural Experience (KCE) was new production called, "A Korean Cinderella Story." This was a production inspired by the story of Kongji and Patzzi, a Cinderella story unique to Korean folklore and which has been passed through generations since the Joseon Dynasty.
The peformance reflected many aspects of Korean culture such as family customs, clothing, and socio-cultural background, and wove together elements of comedy, struggle, and traditional and modern arts for a comprehensive and fun tale. Audiences were treated to special moments with the artists as they left the stage and acted throughout the crowd.
The performance was held on 3 different nights and in 2 major cities in Alabama. Opening night was held in Opelika City and hosted by the Opelika Center for the Performing Arts. For nearly thirty years, the Opelika Center for the Performing Arts has been the place where audiences experience the world's finest artists and musicians. Some of the visiting artists and guests such as Michael Kaiser, President of the Alvin Ailey Dance Theater in 1992 and former President of the John F. Kennedy Center for the Performing Arts counts the company's performance in the hall as one of the most memorable in their careers.
Next stop was Montgomery, at Troy University in Montgomery's historic Davis Theatre for the Performing Arts. The Davis Theatre is truly a beautiful space and has been a home to A-KEEP's KCE program since 2016, with our first production of the "Lady Hwang Jinee."
The Davis Theatre is a downtown landmark and is one of only a handful of such theatres still standing across the South. - VisitingMontgomery.com
In addition to the visual grandeur of these two theatres, we have to thank the amazing staff who helped put on this show, including the students and volunteers!!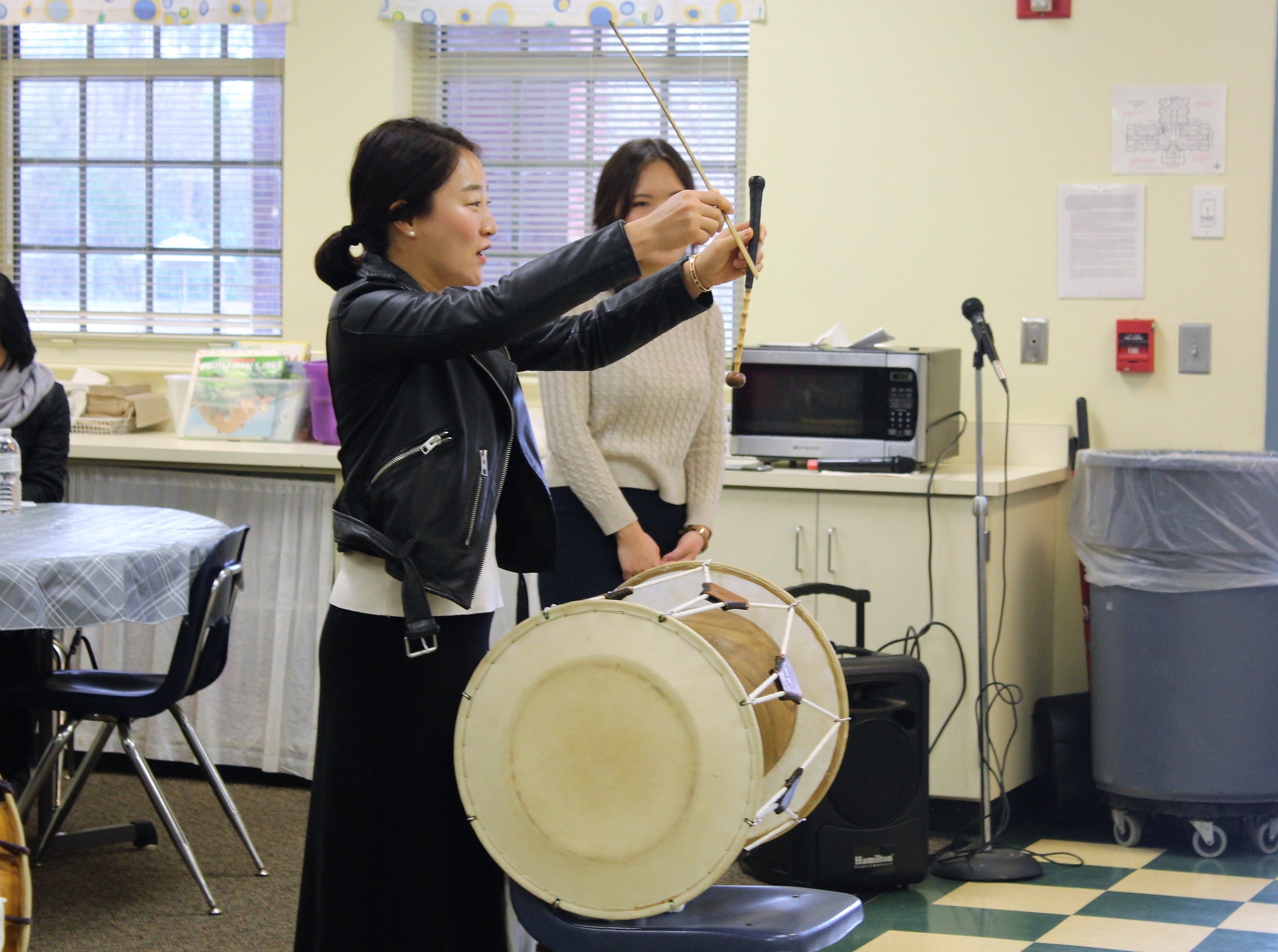 Learning culture through art.
The best part about A-KEEP Korean Cultural Experience program is that it gives the opportunity for local students to learn about multicultural arts from international professionals, that otherwise, would be hard to access.
This year, we were able to increase the number of workshops offered to students through new community collaborations.
Each workshop was conducted by The Music Group Kong Na Mul, who were also the performing artists in A-KEEP featured play of "A Korean Cinderella Story." The Group included a diverse group professional artists skilled in Pansori singing, a UNESCSO intangible cultural heritage property, Korean traditional dance, musical instruments, and martial arts.
A-KEEP and the Music Group Kong Na Mul collaborated for our second year with Opelika Schools and Opelika High School to provide 3 workshops, and also worked with the Montgomery School of Music and Holy Cross Episcopal School in Montgomery. Ms. SungEun "Grace" Shin provided on-site translations on behalf of A-KEEP in all events. She did an amazing job ;)
On January 26, BUD Club collaborated with A-KEEP to help with one of A-KEEP's Korean Culture Experience to showcase Korean culture through a play called "A Korean Cinderella Story."
Our BUD Club members lended their help by issuing a surveys to learn more about the community and the effect of multicultural education though the arts, collected tickets and distributed information about the theater and play, and helped to usher audiences.
Thanking our Sponsors and Supporters
We also would love to thank the following organizations and people who helped to make this year's Korean Cultural Experience a success!
The Korea Corner at Auburn University who we instrumental in promoting the Opelika show
Volunteers from Auburn University who assisted in the Opelika Performance, who also impressed us all with their Korean language abilities! Go AUM!
Minyeong "Eileen" Kim, who lent her skills as a professional Korean Traditional dancer and
Joohna Kim, Keyra Thomas, and Rebecca Seung-Bickley, who lent their services as "A Korean Cinderella Story's" Media Team with Christa Springs! Thank you!
Robin Loveman Birdwell who designed the beautiful graphic and booklet for this performance
The BUD Club and Mrs. Elisabeth Newell; Mrs. Newell helping to organize the BUD club, while the members did a fantastic job volunteering their service on the performance night at the Davis Theater
The Opelika High School, Montgomery School of Music, and Holy Cross Episcopal for hosting Korean musical workshops for over 100 students total.
We thank the businesses and organizations who helped us to share information about the event through posting posters and displaying informational handouts
...and we especially thank all of you. our A-KEEP Ambassadors who help share information A-KEEP's programs and who are changing our community for the better by participating in these multicultural educations and arts opportunities.